When you come for services, you will find our prayerbook has Hebrew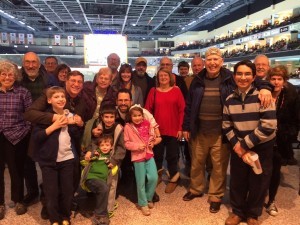 on the one side and a complete English translation on the other, because we meld the traditional and the evolving. There is an accessibility to our service, even for the first-time visitor, that is reflected in the warm and welcoming nature of the congregation. Below you'll find more details, as well as links to related organizations. Be sure to listen to the lovely "Sounds of the service."
MEMBERSHIP
For a list of membership categories, please click here...
TRADITIONS
Shabbat and services
Minyan
Kashrut
Kippah and tallit
Simchas and tzedakah
Brith Sholom's Holocaust Scroll
Cemetery
SOUNDS OF THE SERVICE All files are in MP3 format:
Torah Service: Part 1
Torah Service: Part 2
Blessings Before Haftorah
Blessings After Haftorah

GROUPS

The United Synagogue of Conservative Judaism (USCJ) is a community of kehillot, sacred communities , committed to a dynamic Judaism that is learned and passionate, authentic and pluralistic, joyful and accessible, egalitarian and traditional. Brith Sholom is a USCJ member.
United Synagogue Youth (USY) is the international youth movement of Conservative Judaism. It sponsors a variety of educational, social, religious, and social action programs. Lehigh Valley United Synagogue Youth, or LEVUSY, is based out of Temple Beth El in Allentown, PA. LEVUSY serves the greater Lehigh Valley, with members from Brith Sholom, Temple Beth El in Allentown, and Bnai Abraham of Easton. In addition to our USY chapter for teens in grades 8 through 12, LEVUSY also has a Kadima chapter for students in grades 5 through 7. LEVUSY is a proud member of the Eastern Pennsylvania Region, generally referred to as EPA.
Hadassah is a women's Zionist movement that has helped make the dream of Israel, a Jewish nation, a reality, and many of the women in our community are active members of the Bethlehem-Easton Group of the Philadelphia Chapter. Raising funds for Hadassah's medical center in Jerusalem, rescuing children through Youth Aliyah, and pioneering new methods of vocational training are but a few of the projects Hadassah supports. The Brith Sholom office can put you in touch with the local Hadassah representative.
*************
Wed, October 4 2023
19 Tishrei 5784
Today's Calendar
---
Friday Night
Shabbat Day
Shabbat Service

: 9:00am
Wisdom of the Talmud

: 1:00pm
Candle Lighting

: 7:16pm
Candle Lighting
Havdalah
Chol Hamoed Sukkot
View Calendar
Zmanim
Alot Hashachar
5:40am
Earliest Tallit
6:11am
Netz (Sunrise)
7:01am
Latest Shema
9:55am
Zman Tefillah
10:54am
Chatzot (Midday)
12:50pm
Mincha Gedola
1:19pm
Mincha Ketana
4:14pm
Plag HaMincha
5:26pm
Shkiah (Sunset)
6:39pm
Tzeit Hakochavim
7:20pm
More >>
Wed, October 4 2023 19 Tishrei 5784